FOR IMMEDIATE RELEASE
The Diesel Garage Foundation Is Bringing Career Ambitions to Life as It Partners with Diesel Laptops
The laptop prize acknowledges and contributes to the progressive strides of the foundation founded on innovation and excellence.
Recent studies have revealed a rising demand for diesel service technicians, due to the retirement of older technicians from the job and lack of enthusiasm for trade school education as a high percentage of America's high schools have removed shop classes from their education curriculum. With the pressing need for maintaining, repairing, and regular servicing of diesel-run vehicles that ply the roads daily, the role of diesel technicians cannot be overemphasized. However, despite this cautionary prediction, schools in the United States are churning out just a meager number of trained diesel technicians annually. The Diesel Garage Foundation is committed to increasing this number by offering mouth-watering incentives to individuals who are interested in this field but are limited by financial constraints.
The Diesel Garage Foundation is pleased to partner with Diesel Laptops in a Fundraising raffle to support the Foundation Trade School Scholarship Program. The Foundation raffled off tickets to win a Diesel Laptops TEXA Truck and Off Highway Combo Diagnostic Tool Kit (valued at $9,975.00) that was donated to the Foundation, in support of raising funds for the Foundation Trade School Program. "I am thankful to have the opportunity to collaborate with Tyler Robertson, CEO of Diesel Laptops, to help give back to the industry through this amazing Fundraising Raffle! Their superior diagnostics system from Diesel Laptops will help the raffle prize winner to diagnose and repair projects with better efficiency getting jobs completed. I highly recommend Diesel Laptops products and services to anyone in the diesel industry! I appreciate their support for our Foundation and look forward to working with them in the future."
– Eric Villa, Founder and Chairman at the Diesel Garage Foundation
Speaking on the recent collaboration, Diesel Laptops had this to say, "Diesel Laptops is proud to participate in this raffle and provide one of our industry-leading diagnostic kits to our winner! Given the current conditions affecting our country and our economy, Diesel Laptops is committed to helping find solutions for the diesel technician shortage. And Eric Villa and his Diesel Garage Foundation are a perfect match for the pursuit of this goal. Diesel Laptops supports the mission of the Diesel Garage Foundation and the future of the diesel industry."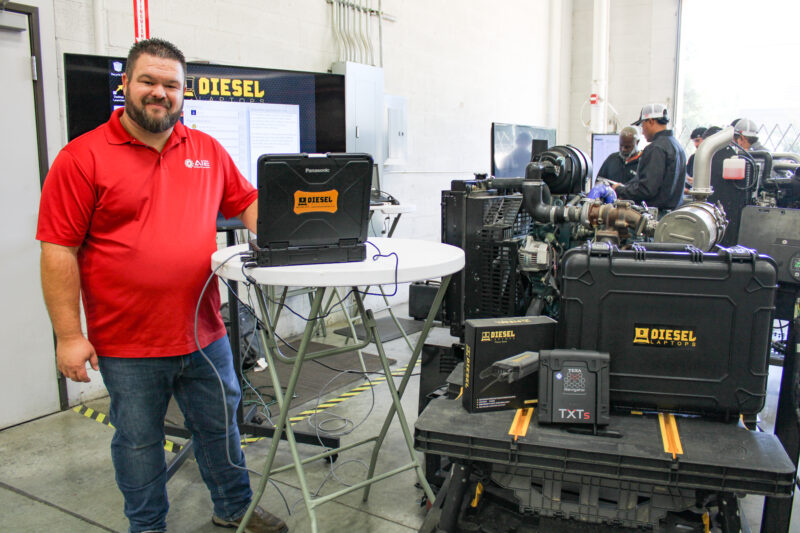 Diesel Garage Foundation/ Diesel Laptops Winner John Burleson.
John had this to say about winning the Raffle and the importance of what the Foundation is doing to give back to the diesel industry;
"While attending the Virtual Diesel Expo hosted by Alliant Power and Diesel Laptops, I stopped into the Diesel Garage Foundations booth. I took interest in the program and what Eric Villa has put together for opportunities to give back to technicians coming up in school. The Diesel Garage Foundation had an opportunity to give back to the industry with a raffle for a Diesel Laptop diagnostics system. Coming from a background of attending a trade school, I felt the need to help someone who could use it. The Diesel Garage Foundation supports this by sponsoring Technicians through school and assists in helping them find work in the industry even before the complete the school.
Being able to win the Diesel Laptop System from the raffle is amazing! I currently work for an Engine Distributor as a trainer, and we run across technicians utilizing the Diesel Laptop for diagnostics. With having my own to utilize, I can understand what others are seeing to help them diagnose down machines faster. I cannot wait to use it more and learn more from the online training that is offered as well. The Virtual Diesel Expo that was hosted by Alliant Power and Diesel Laptops was a great event and I cannot wait to attend again next year! Thank you to the Diesel Garage Foundation and the opportunity to give back and win something amazing!"
Thanks, Danny Burleson
The Diesel Garage Foundation's goal is to Award up to 100 promising students a trade-school scholarship every year. Upon graduation, successful students are trained and ready for job opportunities desperately needing them to fill open positions in the industry. The Foundation's tool and tuition scholarships are awarded to encourage qualified students to acquire a degree with an industry trade school education and to build a successful career as professional diesel technician, welder, or a machinist.
Furthermore, leading diesel industry corporations have much to gain by partnering with the Diesel Garage Foundation. Additionally, graduates benefiting from the Foundation Scholarship Program are trained with the latest technology bringing that knowledge and skill into the industry, further adding to the credibility of the Diesel Garage Foundation as a trustworthy source for hiring personnel.
The Diesel Laptop Prize and the Diesel Garage Foundation have enjoyed generous donations from progressive individuals who are willing to tap into this goldmine to sponsor students' education, scholarships, and other resources required by the diesel industry community. Petroleum drilling contractors large or small, diesel engine manufacturers, and aftermarket parts suppliers, alongside diesel repair and maintenance shops, are encouraged to explore the opportunities presented by the Diesel Garage Foundation.
For more information, please visit https://dieselgaragefoundation.org/
You can make an impact supporting trade school education with your charitable contribution at
https://dieselgaragefoundation.org/charitable-donations/
About the Diesel Garage Foundation
The Diesel Garage Foundation is a recognized non-profit organization founded by US Navy Veterans and funded by generous donations. Eric created the Non-Profit Organization to further support the diesel industry by providing trade school scholarships and supplying trained trade school graduates to meet the increased demand in the diesel industry for technicians, welders, or machinists.
Media Contact
Company name: Diesel Garage Foundation
Contact Person: Eric Villa
Phone number: 702-589-4813
Email: admin@dieselgaragefoundation.org
Address: 2831 Saint Rose Parkway Suite 200 Henderson, NV 89052
Country: USA